Airplane Kit Manufacturing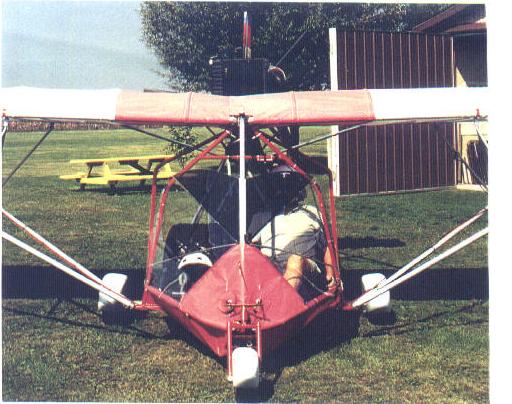 The Phoenix II was designed by Tommy Georges, owner of American Aero.  Five prototypes were built in the spring of 1998 and the first Phoenix II was flown to the 1998 Osk-Kosh Fly-In.  American Aero will manufacture the Phoenix II and it will soon be available in kit form.  The Airplane was designed to be used as a trainer type plane.  It will hold two large pilots, have ample power with its 65 horse Rotax 582 engine, and comes in an easy to assemble kit.  Future plans include an optional windshield enclosures.  Orders will be taken in 2003.  Additionally John R. Riffey has joined Tommy Georges in the Phoenix II Production.
The Phoenix II now has over 425 hours of flight-time on the airframe.  With two side-by-side seats stalls goes up to 34 mph.  Weight with cockpit pod and windshield is 391 pounds, well within the legal ultralight trainer limits.  A second look reveals strut bracing of the wings.  The Phoenix II is now ready to bring new hope to those trapped in the stifling deserts of non-flight.
Tommy adds that he has beefed up the airframe with heavier walls and larger diameter tubing, giving the Phoenix II an estimated 6+ G-loading strength.  He has improved the suspension with special fiberglass axles.  He also widened the side-by-side seats to accommodate his 200 pounds, for softer landings and impact absorption.  Other trainers, he had discovered, were marginal for his uses as an AFI (advance flight instructor).
An aircraft as interesting as this can only have come from a very remarkable person.  Like the engineer portrayed in the movie "Flight of the Phoenix," Tommy Georges is a builder of model airplanes, among other things – many other things, that is!
Georges created and raced go-carts stock cars and sprint cars for ten years before becoming a treasure hunter on the famous Atosha-Marguerita wrecks off the Florida coast.  Later, he built his own business and bought 15 acres, which became his present airpark near Springfield, Illinois (lat.39.39.40 x long.89.27.31).  Where he host the annual fly-in the weekend before Labor Day, when over 100 airplanes in 2002 attended, all but 10 being ultralights.
American Aero will market the Phoenix II as a kit.  The kits, of which five have already been built, are complete with 65 hp engine seat coverings, and wheel pants.  Only the instruments will be extra since many pilots want to custom design their own instrument panels. 
For more information, contact Tommy at (217) 623-5772, both phone and fax.
Remember… "there is no alternative,  We've got to fly…"